Soothing Days

Welcome to the website of Krista Call, L.M.T
Treat yourself to a relaxing, rejuvenating, therapeutic, professional, Swedish massage. Visit my soothing days massage studio. Here I provide massage services that provide clients with a variety of benefits. Some of the more common benefits you can experience are:
reduced pain
reduced stiffness and motion limitations
reduced muscular stress
reduced emotional stress

increased flexibility
increased circulation

increased blood and lymph flow

For health and relaxation,

Krista Call L.M.T

---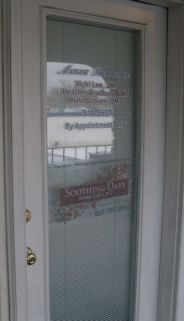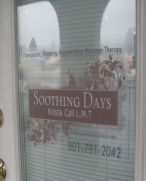 Price List!


60 minute Therapeutic Swedish......$60
75 minute Therapeutic Swedish......$75
90 minute Therapeutic Swedish......$85
60 minute Prenatal........................$60

Hot Stones additional ....................$10
Hot Steam Towels additional...........$10
Personalized Aromatherapy additional....$10

Discounts apply when buying 3 passes or more!
------------------------------------------------------------------------------

Bridal Shower/ Spa Parties.

Sporting Events/ Chair Massage.

Gift Certificates available too!

Hours of studio: 7 days a week. By Appointment Only .click here.

Couples Massage/Not available.

No out calls.


Search Our Website
---
Map & Directions
Need a map and/or directions to our location? Check out our interactive map to ensure you arrive safe and on time for your upcoming massage appointment.

---

All guests, Please arrive 10 minutes before scheduled appointment. This will insure you receive your full allotted time for your massage.

A $10 service fee may apply for a no call/no show!
A 2 hour cancellation notice is appreciated.